Swipe across lids and blend with fingertips for instant color.
The ultra-smooth and light texture makes it a simple and comfortable application.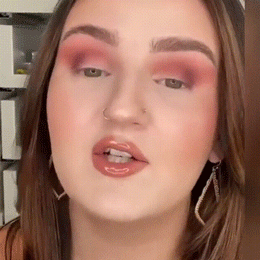 ADVANTAGES
* Highly pigmented
* Suitable for all skin types
* Waterproof, sweat-proof, long-lasting
* Safe formula, hypoallergenic, non-irritating
* Create any makeup look with ease
* Easy for makeup professionals and beginners
* Portable to carry to maintain perfect images anytime & anywhere

KEY FEATURES
* Glitter Gradient Eyeshadow Stick
Available in many different shades, this eyeshadow stick provides stunning, buildable & shimmer coverage in JUST ONE SWIPE! Effortlessly create charming eye makeups that are strikingly sexy and glam!
* Stunning & Shimmering
Each color offers the right amount of shimmer to make your eyes sparkle, shine, and pop. Glitter eyeshadow is definitely the most photogenic makeup trend that you must try this year!
* Long-lasting
The waterproof, budge-proof formula will maintain beautiful eye makeup for up to 8 hours, without streaking or smudging.
* Easy To Apply
You can easily achieve flawless, naturally-blended eye makeup with this dual-color stick. Just swipe it over your lids and you're good to go.
* Various Occasions
We offer various colors from warm & earthy tones to fresh & peachy colors. Whether you're looking for a natural everyday look or a sultry date-night makeup, these sticks make it easy.

SPECIFICATION
Shelf Life: 3 Years
Net: 2g, 1.2g*12pcs
Color: #01 White, #02 Gray, #03 Black, #04 Light Khaki, #05 Brown, #06 Desert, #07 Rose, #08 Purple, #09 Violet, #10 Light Blue, #11 Dazzle Blue, #12 Green, #13 Dark Blue, #14 Mocha, #15 Gold Brown, #16 Silver, Set 1 Bright (12 Colors), Set 2 Daily (12 Colors), Set 3 Pink (12 Colors)
Package Includes: 1 * 16 Colors Highlight Eyeshadow Pen Waterproof Glitter Eyeshadow Eyeliner Pen