The voice of shaving beard every day❗
No matter how careful you are, you will always shave yourself, this side is red and that side is red!
It is inconvenient to take it on a trip, it is too bulky?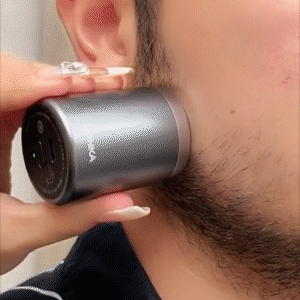 Look how small the eggs are
?Egg Sized Portable Shaver
✅Safe and practical, no harm ❤️✅Small size, so convenient✅ Can be taken for travel ✈️
✅It can be used for 30-45 days on a single charge, no need to spend money on batteries
✅The blade is very durable (usable for up to six months)
✅It can also be used for shaving hair
comfortable and clean shaving experience.
Product Description
【Mini shaver】Featuring a compact and ultra-lightweight design, its tiny body measures just 1.76" and weighs in at a dainty 0.26 lb., making it both easy to carry such as in a pocket or briefcase, but also perfect for stashing in the car. Bring it anywhere, use it anytime!

【 Powerful shaving】The mesh of 3.15cm diameter can capture more beard at once. 25 sharp blades ensure perfect sharpness. 6500-turn motor is capable of shaving off beard instantly. Replacement head purchase link: B0BYDC8C82

【Aluminum alloy body】The body made of high-quality aluminum alloy material has good texture and good touch, which is more sturdy and durable than plastic body

【IPX7 waterproof】With an IPX7 waterproof rating, the main body can be rinsed in water. Just remove the head and rinse it under the faucet to get it looking good as new.
PRODUCT PARAMETERS
Product Name: Electric shaver

Body Material: Aluminum alloy+ABS

Charging Method: Type-C charging

Battery Capacity: 500mAh

Charging Time: 1.5 hours

Battery Life: 90 Minutes

Product weight: 117g

Dimensions: 13.2cm * 11.2cm * 5.5cm